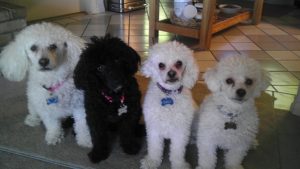 Pets dogs also need great training, obedience and communication skills, and their owners need training, patience and education on how to achieve that relationship. Proper tool selection, and education on how to use them that best fit the dog and the needs and abilities of the owner, must be done respectfully and humanly so you always connect with the dog using a positive association that builds trust.
We love to work with dogs! There is absolutely nothing more satisfying than to watch a dog and their owner come to that magical moment of clarity in understanding each other and watching a new chapter in their life begin.
We teach dog owners humane training and communication methods so they and their dog can clearly understand each other. Once there is a clear bridge of interspecies communication, rules and boundaries set in place that mimics how nature designed dogs to understand what is acceptable behavior and what is not, can now becomes an achievable reality for the goals they have set for themselves and their dog.
Just like with human children, when we give them rules and boundaries, they feel safe, loved and know what is expected of them. This is how everything in nature is set up. Without rules, checks and balances, the world would be in a constant state of chaos.
Since dogs cannot learn to speak another language, it is up to the humans to learn how to communicate with dogs in the way that mimics how they talk among each other, otherwise there will never be a clear line of understanding as each is speaking/using a different form of language.
Misbehaviour usually happens because the dog does not understand what is being asked of them. In many cases their needs as a dog are not being met living in a human environment. But if we look more closely, we will see the dog is usually asking a question in their own unique way of being. Clear communication with defined rules and boundaries presented in a way that closely resembles and nurtures the dogs own survival instincts and "designed by nature canine behavior", is a winning situation for both the dog and the human as it brings the dog back into their comfort zone of feeling safe, balanced, and loved, as it is with raising well behaved, and socially acceptable children.
And… it is just down right fun to learn how to get closer to nature through understanding how your dog sees the world. For most dog lovers, it is the close relationship to nature that our dogs are so intimately connected, that draws us to want to share it with them. Our dogs help us touch the deep roofs of nature within each of us.
Tell us the details of your goals and we'll respond with accurate, honest and trustworthy, information on how our training and education offerings can help you obtain them. We are absolutely available during our site construction transition.
Morgance Ellis is a "international Association of Canine Professionals" (IACP) certified service dog and pet dog trainer. IACP Pro #3782 CDT, CDTA, PDTI, CSDT, and serves on the service dog committee.
You may also use our Contact Us page to talk to us.